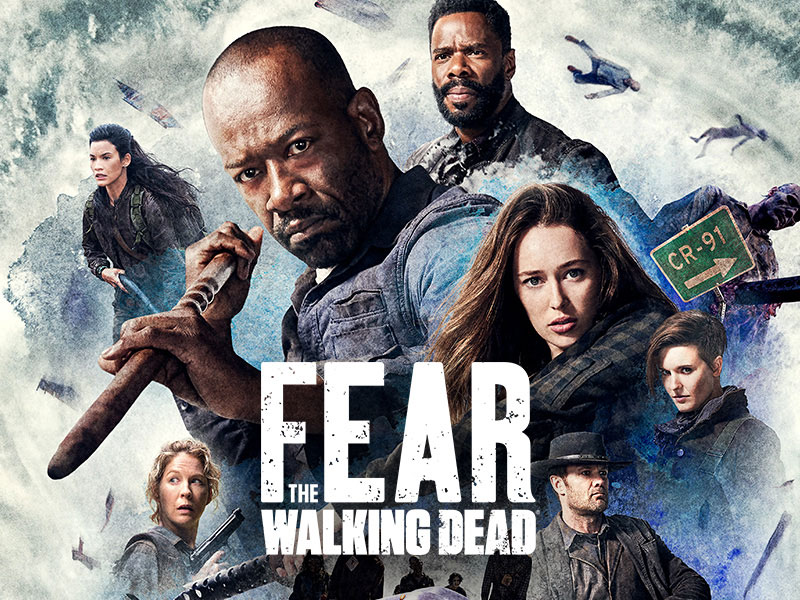 Television has caught up with the film industry recently. Many books have been made into television series and rightly so because many times the intricacies of the details mentioned in the book are not fully brought out through a film, and this is where television series work well. However not all television series have made it to making and breaking records, there are a few that stand out and have made it to our top 10 most popular TV shows list:
Top 10 Most Popular TV Shows
1. Walking Dead
This is one of the most popular TV shows, which has everything — drama, crime, zombies and a group of four strong survivors who are stuck in a world that is filled with zombies and the four survivors are also faced with another group of survivors who prove to be often even more fearful than the 'walkers' themselves. The series until date has telecasted a total of seven seasons and 86 episodes and is still going on. The first episode was broadcasted on 31 October 2010.
2. Game of Thrones
The current top most rated and liked show ever in the world of television series is Game of Thrones. This is a fiction based drama series wherein several kings and rebels are working together to win the iron throne, although there is a group of White-walkers which is marching towards bringing in a greater trouble to the human race.
There are dragons, magic, warlocks, dreams and a lot more that will never bore you even for a minute. This series is also the most pirated television series all across the globe, which shows that it is the most, liked one too. The first episode aired in April 2011 and until date six seasons have been completed. People are desperately waiting for the seventh series to come out so that many unresolved questions can be answered.
3. Breaking Bad
This is a crime drama series, which broke records and gained fame across the globe among television fans. The show was created and produced by Vince Gilligan. The story is about a chemistry teacher who lives with an incurable lung cancer. One of his former students helps him and together their life turns into hell when they start selling drugs for the sake of their family's better financial future. The series is one of the most loved television series and was felicitated with 16 Primetime Emmy Awards, eight Satellite Awards and many more add on to this list.
4. Friends
This television series ran for ten seasons with 236 episodes. The episodes also won Emmy awards for their hilarious and heart touching episodes. The story is of a group of six friends within the age groups of 20-30 years, who discover and re-discover love. They show you the various aspects and problems of life as faced by the younger generations and way to get out of it in their very own way.
Of course, it is a laughing journey because the show is strictly comical. It is also the series that gave us the beautiful American actress Jennifer Aniston. All the characters presented in the series were loved and are remembered even today, after 12 years when the last episode was aired on 6 May 2004. The first episode was broadcasted on 22 September 1994. There was also a series called 'Joey', which later came up as a follow up to 'Friends'.
5. The Newsroom
This was a short television series but a powerful one in that. It lasted for three seasons and each season had ten episodes. The first episode aired in June 2012 and the last one in December 2014.
Within two years, the show had created a lasting impact on the way the world looks at news media and the power it had. Also, it also reflected the lives of those working in this field that how frustrating and at times rewarding it could be. Jeff Daniels and Emily Mortimer played the lead role.
6. The Good Wife
Just like the title, this is a story of a good wife who is dealing with her life's problems that include two kids and a husband who is stuck behind bars for being involved in a sex and corruption scandal. This is a one of its kind legal-political drama series. The wife is a lawyer herself, also a mother, and a wife. The lead character played by Julianna Margulies balances between all these responsibilities and roles.
7. How I Met your Mother
This too is another funny yet inspiring television series which talks of love, relationship issues and friendship problems. The five main characters, Barney Stinson, LilyAldrin, Robin Scherbatsky, Ted Mosby and MarshallEriksen have something unique yet something in common which keeps them bound despite all the odds that happen in their life. The story begins with a father narrating the story of how he met their mother but ends with the father finding his true soul mate.
8. Grey's Anatomy
The show is about doctors who are interning and have to face some serious situations and take a life-changing decision not only for them but also for their patients. There are 13 seasons, which means that this is a long process with 172 episodes. The show has won many awards for excellent performances and extraordinary output.
9. NCIS
This is a show, which is all about the investigation and the interesting drama life of detective Leroy Gibbs who is not alone at the job, and leads a team of investigators to solve numerous cases which otherwise seem impossible and difficult to solve. It had a total of 14 seasons with the last one airing on 17 May 2016.
10. The Big Bang Theory
This was a ten season series with 213 episodes. It is the story of four physicists and a beautiful neighbor. This one is a funny television series because of the way the four could relate everything in life to physics. Each character is wonderfully written and has a uniqueness that separates one from the other. Although they are socially inept, they soon find a place in our hearts as you watch the series.
So these are some of the most popular TV shows which are also entertaining and amazing. With great actors and a beautiful script, these shows won hearts of the people from all around the globe.